Product characteristics:
Ke Xing CosiL® V series vinyl silicone oil is a vinyl terminated polydimethylsiloxane.
Technical Parameters: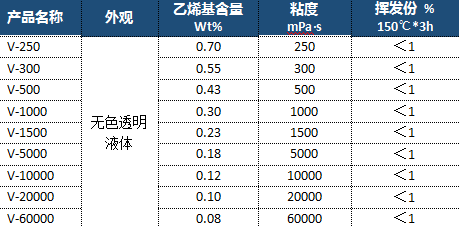 Applications :
The terminal vinyl silicone oil is a vinyl terminated polysiloxane with a vinyl content that decreases with increasing viscosity. In order to achieve different hardnesses, vinyl polymers can be used as base polymers or additives which are vulcanized by reacting with a hydrogen-containing silicone oil curing agent and a platinum catalyst.
Storage and shelf life :
Store in a cool, dry place with the original packaging sealed, and the storage period is 12 months from the date of manufacture; the label is marked on each batch of product label.
The product storage process must be sealed and stored. Failure to seal or store a poorly sealed package may result in deterioration of the product.
Packing :
200KG/barrel, or according to customer requirements
Precautions :
This product is shipped as non-dangerous goods. This information does not include product safety information. If you need a product safety data sheet, please ask for Kexing New Materials Co., Ltd. or via an agent.